This photo of the Cathedrale St Nicholas in Nice is the last photo that my dad took on slide film – in September 2007.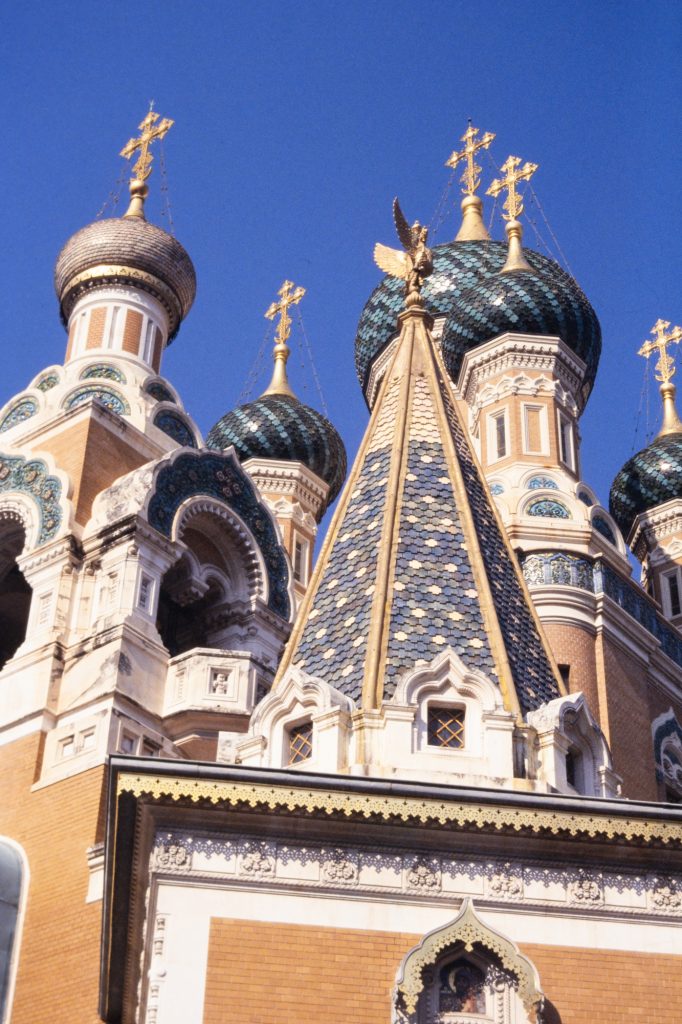 Over the last few weekends I have been rattling through "scanning" the rest of his slides. I say "scanning" because I've adopted a different approach – up to now I've been using an Epson V700 flatbed scanner and it's done me proud. But recently I've not been completely happy with the results from it on my own photos, so I started to investigate the possibility of using my Fuji digital to photograph slides and negs.
I ended up buying a macro lens (a Nikon 55mm f2.8 manual focus) from ebay, a Nikon/Fuji adapter, some extension tubes so I could get close enough for the image on the film to fill the frame, an LED panel, and a copy stand.
All set up in the garage, so as to reduce the amount of extraneous light.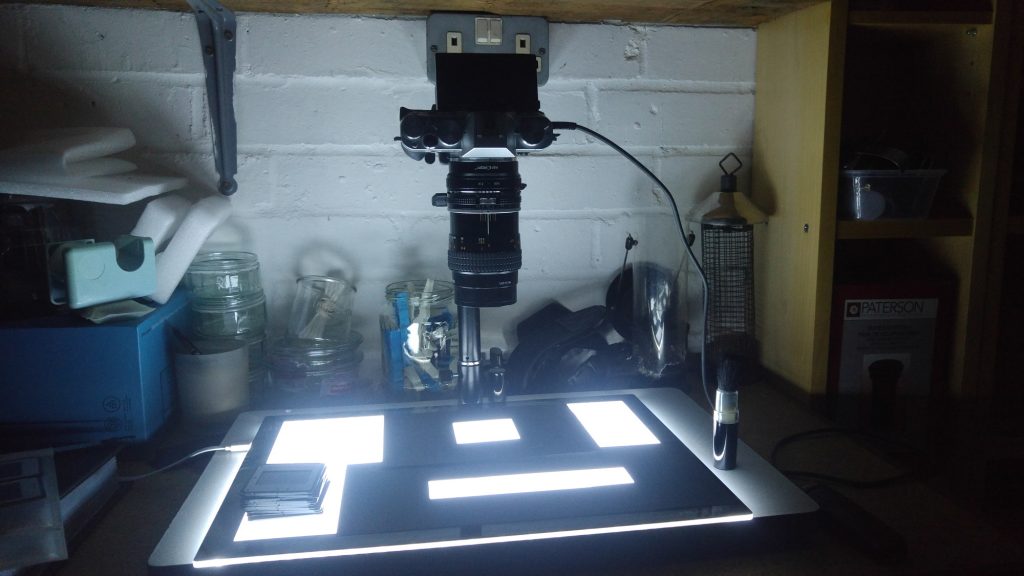 And goodness me, it's productive!
I reckon I've been able to get through about 250, maybe 300 images an hour at my peak – last weekend I scanned 3000 slides across the Saturday and Sunday.
Before I started using the camera, I had laboriously scanned 3,300 slides – the last of them 18 months ago – but over the last 3 weekends I scanned the remaining 7,782. Most of them were holidays as slide film was kept for those, and some garden visits.
I finished the black & white films way back in 2012 (it was that long ago??), now I've finished the slides – just the colour negative films to go, a few hundred of them. I have a film holder on the way, so will be able to crack on with those when it arrives.
Using the camera has been a complete game-change – I actually feel like I can see the end now, whereas I had lost enthusiasm for scanning as it was such a long-winded process.
The one problem I do have is that I've run out of disk space on my laptop!
BTW this sounds like a lockdown project, but I have actually still been working full time, albeit from home – although the lack of anything to do at weekends might have been the thing that kicked me into action.