A slightly random selection from 1975.
This was taken in June 1975 at a Masque Theatre production at Easton Neston – home of Lord Hesketh. Through the gate was the home of his Formula 1 racing team, whose main driver at the time was one James Hunt.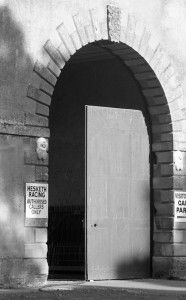 March 1975, London Zoo. This is Guy The Gorilla. Especially memorable for me because for some reason he charged the window me and The Brother were looking at him through. Scared the bejesus out of us – let's face it, who wouldn't be spooked when a bloody huge gorilla charges you – and I was a skinny and weedy 6 1/2 year old. Personally, I think he took a dislike to The Brother – perfectly understandable…

And this is one for the social historians out there – my mother's parents kitchen in Pembroke Gardens. At least that's where I assume it is – looks vaguely familiar, but I was probably last there around 35 years ago!